Read the "News" to find out what's been happening at Los Angelitos recently.
Los Angelitos Orphanage Welcomes Dr. Nasrin Mani
as Its New Medical Director
Los Angelitos Orphanage President Edward Perry recently announced the appointment of Nasrin Mani, M.D. as the facility's new Medical Director.
Dr. Mani is well known in the Southern California area as a top ophthalmologist at California Retina Associates and founder of the La Jolla Cosmetic Laser Clinic.
She brings over 25 years of experience in the medical field to her position. She also brings a passion for treating the underprivileged, especially children. "I never had any kids of my own," Dr. Mani told us, "and I am so happy to have this chance to treat children who would otherwise go without care."
"The children at the Orphanage are so loving and grateful," she added, "I feel blessed to be able to be there to help them."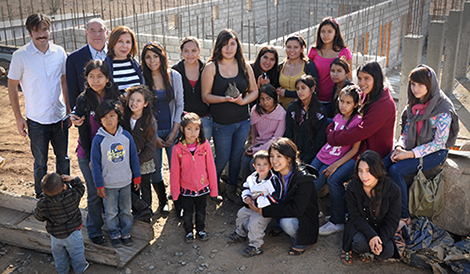 Dr. Mani is a generous supporter of a number of worthy causes. She believes in sharing what she has been given to touch the lives of others. When asked if these efforts ever became overwhelming, she said, "Not really. I've never considered giving up on what needs to be done."
Dr. Mani came to the U.S. from Persia and grew up in Kansas, overcoming cultural and language barriers to become a top student, and eventually matriculated at Vanderbilt University, completing her internship and residency in Ophthalmology. She then finished a Fellowship at USC's Doheny Eye Institute in Vitreo Retinal Surgery.
Over the years she earned a reputation among the best of the best eye surgeons in the United States, the doctor of last resort for serious eye problems.
Her work with laser surgery inspired her to look at the possibilities lasers made available in the field of cosmetic surgery. She turned to aesthetic surgery to give help and hope to people who needed healing for their wounded appearances and self esteem as well as their vision.
Dr. Mani is married to Dr. Darush Moyhi, a well-known infertility specialist with a practice in Orange County.
Why Help Los Angelitos?
We put together an information graphic to help explain why Los Angelitos exists, what makes us so valuable to the Mexico-U.S. border area children, and why we are relevant to the border area community. Click here to view our "Why Help Los Angelitos?" information graphic.

Adding Some Elbow Room
The children of Los Angelitos need room to supplement their current, crowded Spanish colonial home. An additional location has been secured, but there is hardly enough room to accommodate 35 children and the Los Angelitos staff.
Construction of a new facility which will include two dormitories, a large kitchen and dining room, and a spacious living room is beginning soon. Multi-platinum vocal artist Chynna Phillips Baldwin and her actor husband William Baldwin have donated $5,000 to jump start the fundraising. However, we will need additional funds to continue with the construction.
Please join us in our work to help the children of Los Angelitos Orphanage and allow their dreams to come true. No amount is too small.
If Music Be The Food Of Love, Play On
In February of 2010, three musicians from Atlanta, Georgia shared their love of music with the children and staff of Los Angelitos Orphanage. A beautiful time was had by all and now we would like to share it with you.
Computers Needed!
The children are all trying to improve their computer skills to be more productive in the future, but mostly have old throw away computers to practice on. Any not-so-old computers would be greatly appreciated, especially laptops due to limited space at the orphanage.