Read the "News" to find out what's been happening at Los Angelitos recently.
A Word From The Founder Of Los Angelitos Orphanage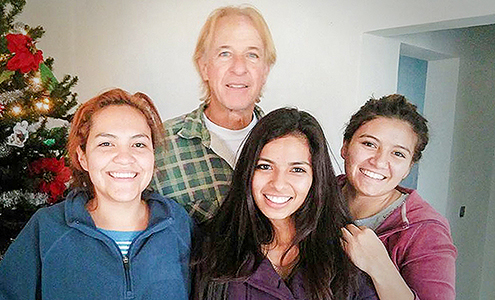 I have been managing Los Angelitos Orphanage for 13 years now, and some wonder how I am able to continue caring for so many orphans and abandoned children. But even at the age of 70, I believe this is my mission in life and God's calling for me.
Los Angelitos is a very personal mission for me. At the age of four I was placed in an orphanage along with my three-year-old sister. As a result of my experience at the Home For the Friendless in Williamsport, PA, I understand very well the pain our children suffer — the pain of being abandoned and cast aside.
I am so thankful to be able to help these children in need, children whose parents have died or abandoned them, children who have no one one to care for them and nowhere to go. It is such a wonderful blessing to give them a chance to live a normal life like other children their age, a chance to have a secure home, a family life, the opportunity to receive an education, and a chance to grow in the gospel.
I would like to express my gratitude to all of you who support the children of Los Angelitos Orphanage. You are also our family and the most important part of this ministry; without your donations this orphanage would not be possible. I may do the day-to-day work at the orphanage, but you provide the financing to make this haven a reality for the children who live here. Before every meal we give thanks to the Lord for His many blessings and then we give thanks to you for putting food on the table.
~Edward Perry, Founder and Director
Why We Donate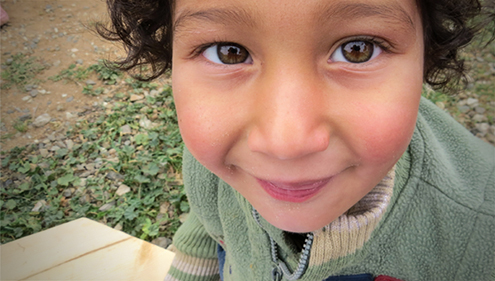 Let me start by giving some history of how this all started. It was probably about three years ago when Ed Perry was looking for a church to bring the children of Los Angelitos to — one that would accept and embrace them for who they are.
My wife Ofelia fell in love with the children, especially the little ones. She came home and began telling me stories of the children as well as Ed's own story. As time went on I became so intrigued by everything she was talking about. The holidays were coming up and Ofelia said the children had nowhere to go for Christmas. She asked me if we could host a Christmas Party for the Orphanage at our house in Medio Camino. I was all for it! This was the start of something that has forever changed our lives — "giving back."
The party was a huge success for everyone thanks in large part to church members and friends. To see the children's faces with their gifts was priceless. For the people involved this brought tears of joy and opened the door for many more parties and events. Easter rolled around and we had a big Easter egg hunt. This was followed by beach parties, water park visit, Thanksgiving dinner, El Nido & Splash lunches, movie and singing parties. Christmas seems to get bigger every year with more people getting involved.
Then a couple years ago the greatest thing happened when our neighbor Dorothy came aboard. She and her group were looking for a new orphanage to help sponsor. This was a game changer because Dorothy and her friends go on food runs every month. The children are always excited when Dorothy and her husband Bill arrive with a truckload of food. The children — with smiles beaming from ear to ear — stand at the truck door ready and eager to help unload. Dorothy saw that the new building needed lighting so she helped raise $3,000 and I went to work finding the right fixtures at a reasonable price. I got my brother to donate thousands of dollars and a friend of Dorothy's recently donated $5,000. A check was presented to Ed with a group picture followed by smiles, hugs and kisses from everyone.
Our latest project had me bringing my landscape architect/contractor to meet Ed. They discussed adding a covered area to the new dorm and beautiful landscaping to match the surrounding area. We're anxiously waiting to see what Arturo comes up with. Ed was telling me he needed some workers so I recommended maestros — reliable folks who have worked for us in the past. They have worked out great and continue doing a fabulous job.
The more that people get involved, the better it gets for the children at Los Angelitos. Whether you support with your time or money the rewards are so gratifying. Let's all help out and see Los Angelitos become what Ed had envisioned 11 years ago when he first purchased those 5-acres outside Tijuana.
-Larry and Ofelia Margolis
New Members Added To Our Six Person Managing Board
Dave Edmondson Orange County, CA.
Dave & his wife Shannon Edmondson have been married for 24 years. They have five children from ages 21 to 6. They have made many trips through the years to various orphanages providing help and comfort to many of Baja's orphans. In most recent years they have been in the process of responding to God's leading to do more, much more! They operate from the perspective that God has much to do in the orphanages in Baja, and are passionate about bringing lasting change in the lives of these kids. They have faith and confidence that God is moving in such a powerful way in transforming the orphans of today to tomorrow's leaders, husbands, wives', and influencer's who follow Christ. Through their charity, OneGeneration, they have raised significant money to assist Mexican orphanages and children.
Stephen Ellis Primo Tapia, MX & Idaho Falls, ID.
Steve and his wife Mary have been married 30 years with 6 children and split their time between Mexico and Idaho. Steve has spent almost 30 years in finance and today continues as the President of .Com Inc. a private consulting firm specializing in the operation of publically traded companies in the US and Canada. Steve has been deeply involved in orphanage work in Mexico since 2004 and today is supporting 4 College students and 7 secondary students in the Tijuana area of Mexico. He is the godfather to several children in Mexico. He and his wife Mary are significant donors to Los Angelitos and other Orphanages in Baja, Mexico.
Mary K. Ellis, Primo Tapia, MX & Idaho Falls, ID.
Mary and her husband Stephen have been married 30 years with 6 children and split their time between Mexico and Idaho. Mary spent 12 years in Aesthetic Medicine before retiring. She now devotes much of her time to the many children in Tijuana that need her compassion and support. Mary Is now devoting much of her time to the Los Angelitos Home raising awareness and funding. Like her husband she is supporting 4 College students and 7 secondary students in the Tijuana area of Mexico. She is the godmother to several children in Mexico.
Why I've Donated 100's Of Hours To Los Angelitos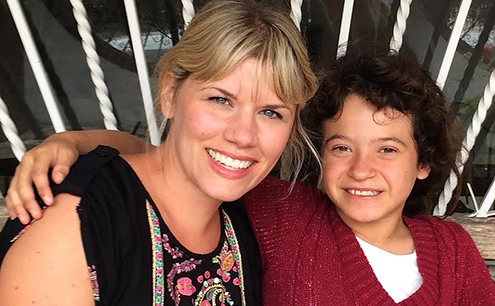 When I first moved to Baja with my family eight months ago, I was looking for a place I could volunteer with my children. A few people suggested that I go to the Los Angelitos orphanage in Tijuana. Many members of the community know Ed Perry, the Director, and love the kids at the orphanage so it was no surprise they would send me there.
The first day I arrived, I felt so welcomed by Ed and the kids. They were so excited to see us. It seems like their excitement grows each time we come back. One of my favorite visits was a day that my three kids and I happened to be there during lunch. Usually we would just wait for the kids to finish their lunch and continue on with our activity. That day they asked Ed and Brenda, the housekeeper, if they could serve us lunch. The adults agreed and they all insisted that we sit with them as the children waited on us. They were so happy to do it. They watched and made sure our drinks were refilled and we had everything we needed. We were so touched by that experience and their willingness to serve us.
As we visited the orphanage more often, I started to feel love towards all the kids. That love has continued to grow and has kept me going back. Some orphanages have a dreary and sad feeling but the children at Los Angelitos are happy and hopeful. I am so grateful for the experiences I have had there.
-Renae Southworth
Los Angelitos Orphanage Welcomes Dr. Nasrin Mani
as Its New Medical Director
Los Angelitos Orphanage President Edward Perry recently announced the appointment of Nasrin Mani, M.D. as the facility's new Medical Director.
Dr. Mani is well known in the Southern California area as a top ophthalmologist at California Retina Associates and founder of the La Jolla Cosmetic Laser Clinic.
She brings over 25 years of experience in the medical field to her position. She also brings a passion for treating the underprivileged, especially children. "I never had any kids of my own," Dr. Mani told us, "and I am so happy to have this chance to treat children who would otherwise go without care."
"The children at the Orphanage are so loving and grateful," she added, "I feel blessed to be able to be there to help them."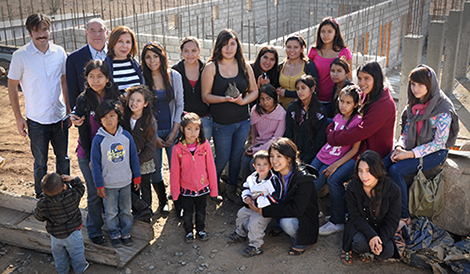 Dr. Mani is a generous supporter of a number of worthy causes. She believes in sharing what she has been given to touch the lives of others. When asked if these efforts ever became overwhelming, she said, "Not really. I've never considered giving up on what needs to be done."
Dr. Mani came to the U.S. from Persia and grew up in Kansas, overcoming cultural and language barriers to become a top student, and eventually matriculated at Vanderbilt University, completing her internship and residency in Ophthalmology. She then finished a Fellowship at USC's Doheny Eye Institute in Vitreo Retinal Surgery.
Over the years she earned a reputation among the best of the best eye surgeons in the United States, the doctor of last resort for serious eye problems.
Her work with laser surgery inspired her to look at the possibilities lasers made available in the field of cosmetic surgery. She turned to aesthetic surgery to give help and hope to people who needed healing for their wounded appearances and self esteem as well as their vision.
Dr. Mani is married to Dr. Darush Moyhi, a well-known infertility specialist with a practice in Orange County.
Why Help Los Angelitos?
We put together an information graphic to help explain why Los Angelitos exists, what makes us so valuable to the Mexico-U.S. border area children, and why we are relevant to the border area community. Click here to view our "Why Help Los Angelitos?" information graphic.