Make A Donation
Making A Single Donation
Please consider making a donation to Los Angelitos Orphanage. All funds go directly toward Los Angelitos' operational costs and are tax deductible. You can make a donation online with any major credit card, safely and securely using PayPal.

Don't Forget! Select "Make This Recurring (Monthly)" if you want your donation to recur monthly!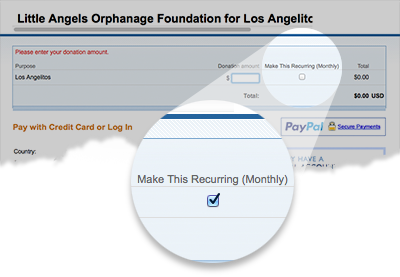 A Recurring Donation offers a convenient way to save cardholders time by providing an automatic payment method. To set up an ongoing monthly donation select one of the four options below and click "Recurring Donation." This will send you to PayPal where you can make your donation securely and your donation is tax deductible. Don't forget — your donation is tax deductible.
You can also write a check made payable to "Little Angels Orphanage Foundation"
and mail it to:
Los Angelitos Orphanage
P.O. Box 433263
San Ysidro, CA 92143
Add A Footer In Your Email
Tell your friends about www.losangelitos.org every time you send an email by adding one of the below messages in your email footer.
Host A Banner
Show your support of the children of Los Angelitos by placing our banner on your website, blog, MySpace profile – wherever! You can copy the text in the boxes next to the image and paste it into your page to display the banner ad automatically.
Static Banners
Fundraising Kit
Please click here to download the fundraising kit and follow the simple instructions to make your very own donation jar. The donations you collect will directly benefit the children of Los Angelitos.
Don't forget to take some pictures of where you place the donation jar and post them on our Facebook page.
Fundraising Brochure
Please click here to download our fundraising brochure. Use this brochure to help us tell your friends, family, co-workers, and members of any group you are a part of, about the children of Los Angelitos. Help us get the word out that thousands of children in the Tijuana, Mexico area are in desperate need of a home.
Instructions for printing the 'Whom Must We Send Back?' trifold brochure
Paper size is 8.5" x 11" and the brochure is set up to print in horizontal or landscape mode.
Paper can be coated or non-coated, preferably brochure weight with good opacity. Go here for our paper recommendation.
PDF settings should be set for "High" or "Maximum" print quality.
Select "duplex printing" (automatic printing on both sides) if your printer has that feature. If your printer does not allow for duplex printing then manually feed the same sheet to print on the opposite side.
For questions or problems regarding this brochure contact us at socialmedia@losangelitos.org.